The Windsor
Copper Chimney Pot
Add the timeless look of Vintage Copper
Windsor(Victorian and English) The Victorian Era saw the full flowering of the industrial revolution. For the first time, mass production of hardware and supplies made products readily available and affordable to increasingly more people. The prominence of handmade craftsmanship quickly gave way to machine manufacturing. House styles were breaking free from their box-like shapes, with asymmetrical floor planning and elaborate exterior features.
The Victorian Era marked the explosion of creative options, daring forms and techniques available to the homeowner as never before. Designers and architects broke away from the traditional symmetrical lines and simple colors. Victorian homes are colorful, elaborate, and bold.
Copper chimney pots weigh a fraction that of clay, making installation very easy. All seams are soldered and your chimney cap will not warp or crack. Copper chimney caps withstand high winds, earthquakes, and increase draft.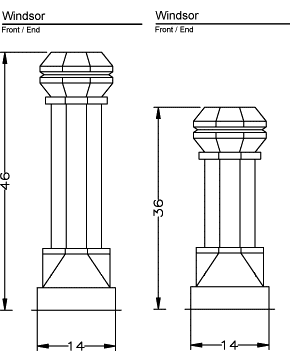 Windsor square base dimensions are 14in x 14in and will accommodate pipe up to 14in square tile liner.
Standard sizes 36 & 46 in tall.
Note that the Windsor is available with and without an opening!
Shipped Fully Assembled.
Custom sizes available.